Sunday, October 22, 2006 by Salman Siddiqui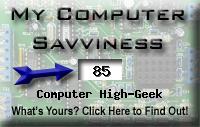 What does this mean?
Your computer geekiness is:
High-Level Computer Geek.
All of those below you are envious of you! (...Well perhaps not the cool people)
Test Facts:
The average score for the gals is
38
, while the guy average is
56
.
Of the Computer Geek Quiz Takers:17%
are scared of links
17%
of Windows users curse it
4%
of Linux users selected Bill Gates as their hero...ROFL!!!
Go for it friends, it will take not more than 5 minutes, and reply back with your score!!! This entry was posted by Salman Siddiqui, on Sunday, October 22, 2006. You can
leave your response
.


"Are you geek? I am..."
About This Site
Subscribe
Tips Tricks & Hacks
Archives
My Blogroll
Recently Published
Recent Comments
Get Reviewed At ReviewMe!